June 2014 market update
Breaking down the data
During the first five months of 2014 our sales volume was 17% lower than in 2013 and 14% lower than the same time period in 2012. We sold 277 gulf-front condominiums between January and May of this year. In 2013, during the same time period, we sold 336 and 322 in 2012. We can now see a clear trend for 2014 with absorption falling off as prices increase. This was bound to happen. With no remaining preconstruction buildings to convey and distressed sales winding down, sales volumes were destined to drop.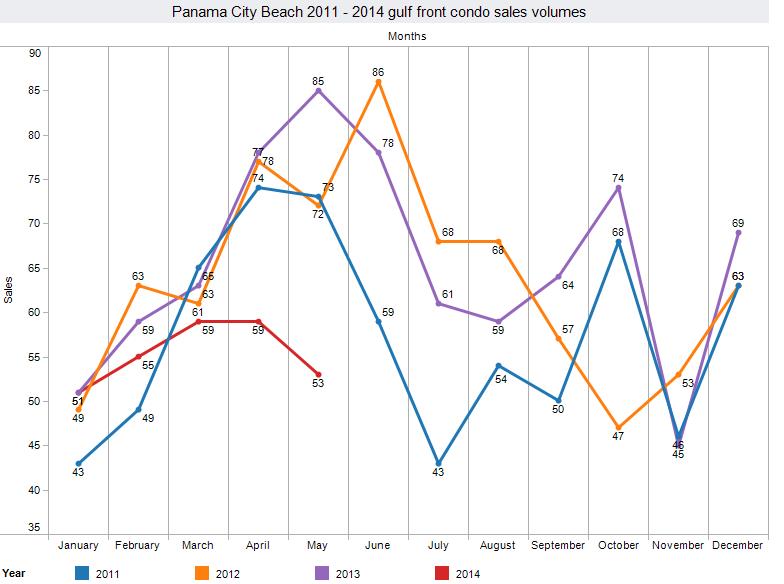 In April 2014, we sold 59 Panama City Beach condos. This is down 24% from the prior two years. The May sales volume dropped at an even stronger pace, with us selling 53 units. This is 37% less than in 2013 and 26 percent less than in 2012.
Prices continue to move higher as the absorption falls off. 2012 saw a 8.11% increase over the prior year. 2013 saw a 10.68% increase over 2012. It is not even half way through 2014 and we are already 8.14% above 2014 pricing.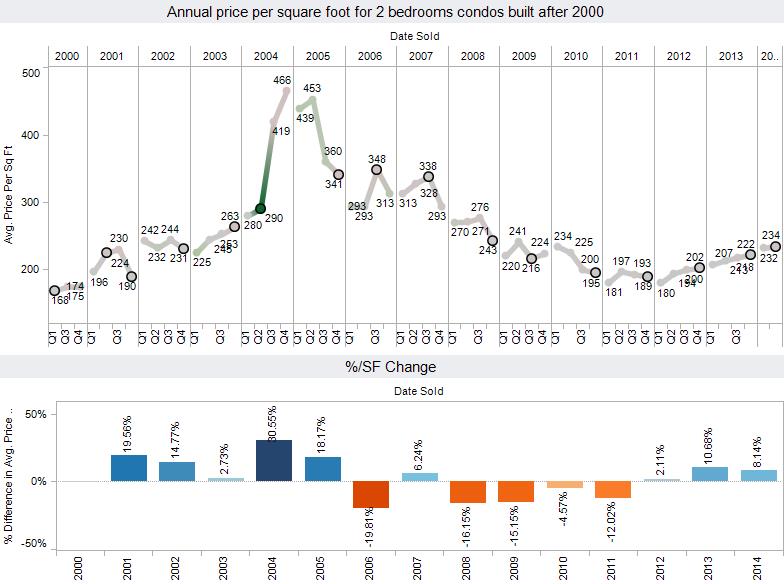 Interpreting the Data
2014 will easily see a more than 10% increase in pricing over the prior year. Knowing this, the question then becomes, Do annual price increases taper off with the sales volumes? We have seen no sign of that yet. I believe we will easily see sales prices averaging $270 per square foot before we see any measurable pricing resistance of less than 10 percent of annual increases. Because there are a number of buildings and floor plans that simply have no inventory available, condos are continuing to sell as the pricing pushes upward. This will become the new normal in Panama City Beach. We believe this to be healthy.
Condominium loans continue to have strict requirements. Applicants are required to have a solid debt-to-income ratio as well as 20% down. It is also very common for cash-only buyers to come to the closing table. Supply and demand are balancing.
The Further Evolution of Panama City Beach
1990-2008
The preconstruction boom of the late 1990s through 2008 brought a lot of changes to Panama City Beach. Many of the small motels were torn down and replaced with new condominium buildings. These buildings were vastly different than the older buildings. They featured higher ceilings, nicer amenities, and wider glass across the entire gulf side of the condos. Panama City Beach also began planning and starting many infrastructure improvements, such as the widening of roads, addition of transit and bicycle lanes, and the addition of landscape and hardscape amenities. Pier Park opened and showed much of Panama City Beach what it could be.
The Area in 2009-2014
While commercial spaces in Panama City Beach continue to improve, infrastructure plans are also taking shape. The first segment of the Front Beach road project is underway and the first portion is complete. You can now drive down by Boardwalk Condominium and get a glimpse of what Front Beach Road will eventually look like. To see more pictures of what is planned and already completed, click here.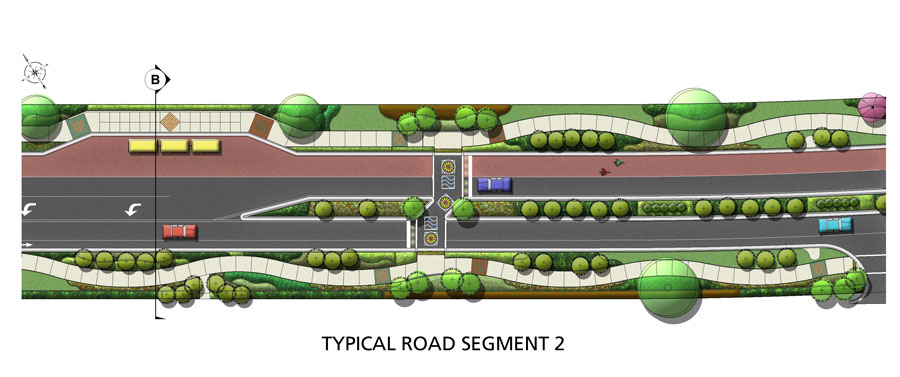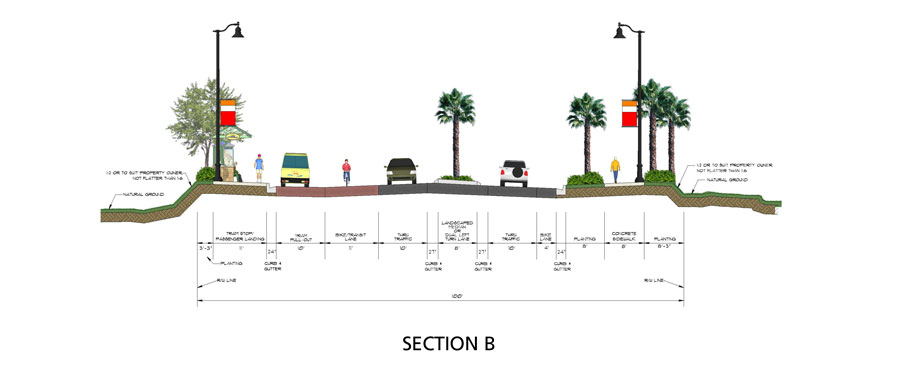 Condominium Owners 2009-2014
The largest change I am seeing in Panama City Beach is in the new condominium owners and management. All of the real estate flippers are gone. Owners are very financially sound. Financially sound condominium owners make for solid condominium associations. A beach full of solid condominium associations gives us a maturing Panama City Beach.
Many condominium associations have ousted the old management and have begun focusing on the structure and property. As such, it is very common to see buildings getting new paint colors and grounds being improved. New buyers entering the scene are initially focused on rental income, but that quickly takes a backseat to their preferences in buildings and floor plans by the time they start reviewing available properties and writing offers. Once people start to explore Panama City Beach, everything starts to look different.
It is not going to happen overnight, but it is happening. Panama City Beach is slowly maturing. As soon as the bike paths and 8-foot wide sidewalks showed up on the newly renovated section of South Thomas Drive, so did the runners and cyclists. But that is not all; our restaurants, activities and upcoming events are also changing. Those who do not get to see Panama City Beach for years at a time are not going to recognize it when they come back.
Created on .
Last updated on .
Hits: 8002
People in this conversation