Emerald Beach Resort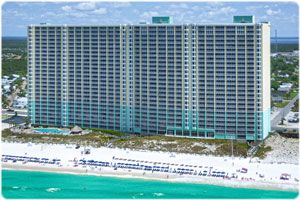 Emerald Beach condominium in Panama City Florida is beautifully situated on nearly 1000 feet of Panama City's white sandy beaches. Having title to "The World's Most Beautiful Beaches," the emerald green water was clearly a focus when developing this condominium. Floor plans are open and spacious. Emerald Beach was originally planned to consist of four condominium towers. Tower one and three completed construction in 2007. Tower one conveyed to individual owners. Tower three was sold to Wyndham later that year. Windham is using tower three as one of its vacation ownership properties. Tower two broke ground (as another Wyndham tower) in 2008 and stopped construction that same year. Each private beachfront balcony sits directly on the Gulf of Mexico.
Units for sale
Emerald Beach 1 bedroom condos Emerald Beach 2 bedroom condos
Floor Plans Tower 1
Click below to view floor plans
Emerald Beach Resort Amenities
Each Condominium is 100% Beach Front
Swimming Pools

One Beach Front Pool
One on the North Side

Fitness Center
Parking Garage
Skywalk
Pool side Tike Bar
Onsite Starbucks
This condominium sits on a large parcel of land and has plenty of room for amenities. Emerald Beach Resort currently one gulf front pool and one pool across the street on the north side of the property. There is a sky bar located on the walk over and a Starbucks on the north side of the property.
Location
This Condominium located in beautiful Panama City Beach, Florida, which has been noted as one