2014 - Year in Review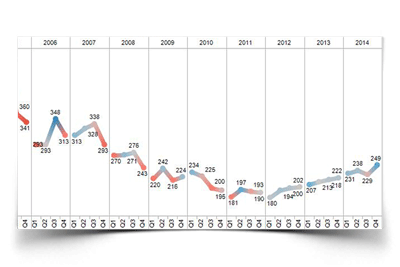 Condos see third year of price increases
In 2012 condos showed promising signs of prices beginning to bounce back. In 2013 condo sales prices clearly showed the market had rebounded. What was interesting about 2013 was that even after two years of price increases, the sales volumes didn't fall off. The reason for this was that inventory was running low on some of the floor plans at their current pricing levels. Meanwhile other floorplans that had not seen absorption for years were beginning to pick up the slack. The lack of inventory really became apparent in 2014. Even though we had price increases of 10% in both 2013 and 2014, our sales volumes were off by 21% when compared to the previous two years. I expect this trend to continue in 2015.
Panama City Beach condo pricing pushed higher for the third consecutive year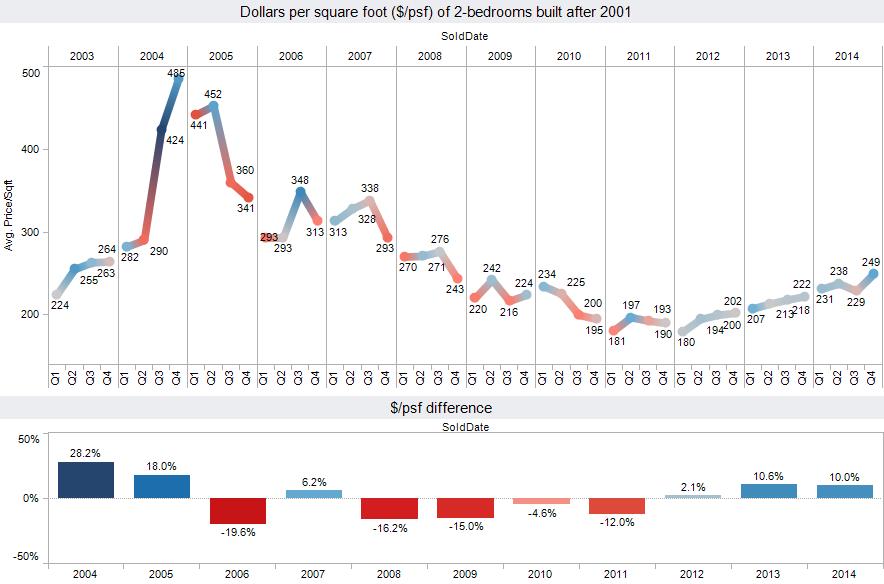 Panama City Beach condo sales volumes are off by 21% from recent years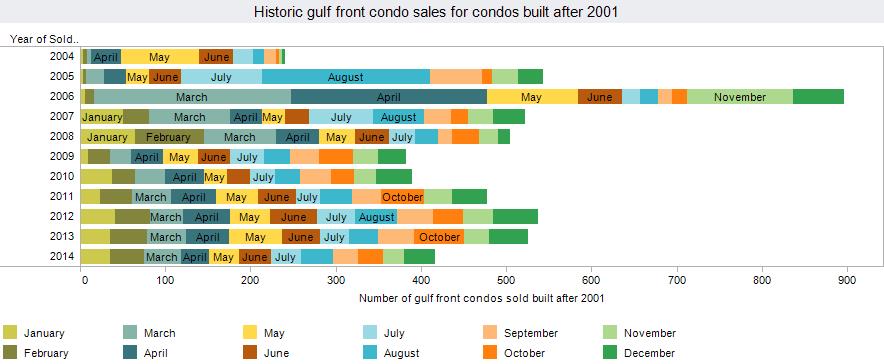 In 2014, 417 Panama City Beach gulf front condos sales were sold. 2013 had a sales volume of 526 and 2012 had a sales volume of 537 gulf front condominiums.
Panama City Beach condominium sales volumes for 2014 vs. 2013: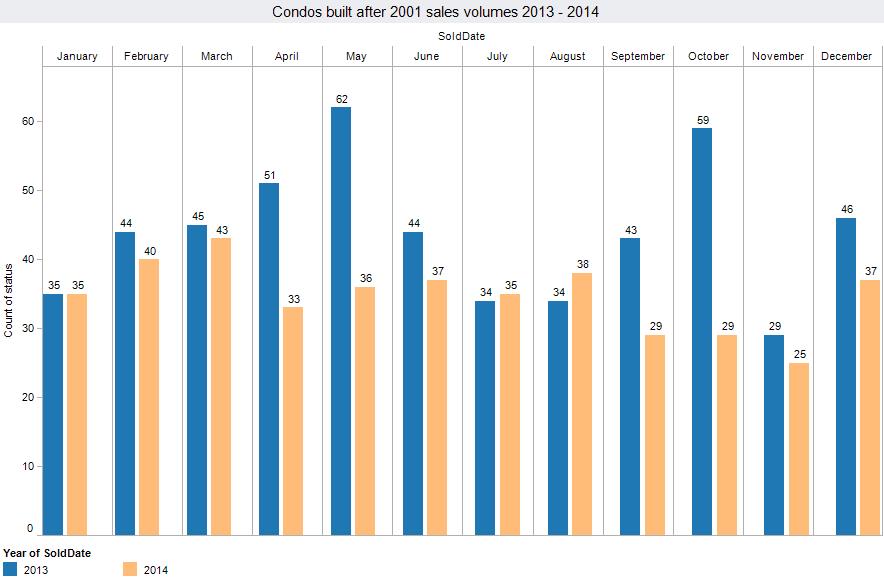 Expectations for 2015
Clearly, prices of condos in Panama City Beach have come back. They continue to progress at a healthy pace. This progress comes while lending standards for condominiums has been measured and responsible. Keep in mind, though, that despite the prices of condos recovering from the rock-bottom levels they hit, we still have not recovered to 2008's prices. This just means that there have been 6 years where buyers have been paying more for these condos than their current selling prices.
What this means to buyers and sellers
Condominium buyers
Currently, inventory is being absorbed, and prices are increasing for most floor plans. Although we are in the second consecutive year of 10% average price increases, remember that these things don't happen overnight. Price increases and lack of inventory have caused a measurable drop in absorption. Buyers who wait three to twelve months could easily pay 10% more than if they purchase now.
We're seeing absorption fall off as sellers are selling at higher prices. This sometimes results in months going by without a particular floor plan selling. The pricing trend continues, however, when the next buyer shows up and pays asking price.
For example, the one-bedroom plan with the master bedroom off the water at Calypso had not seen a sale since one sold in January for $260,000. After that sale, every seller was looking for prices to continue to rise. Buyers weren't interested in paying higher prices, so nothing sold all year. We didn't see any sales with this plan all year until December, when one sold at $250,000. This didn't set pricing back considerably. It just didn't continue to sell at the higher rate. This has become a common theme for individual floor plans in Panama City Beach.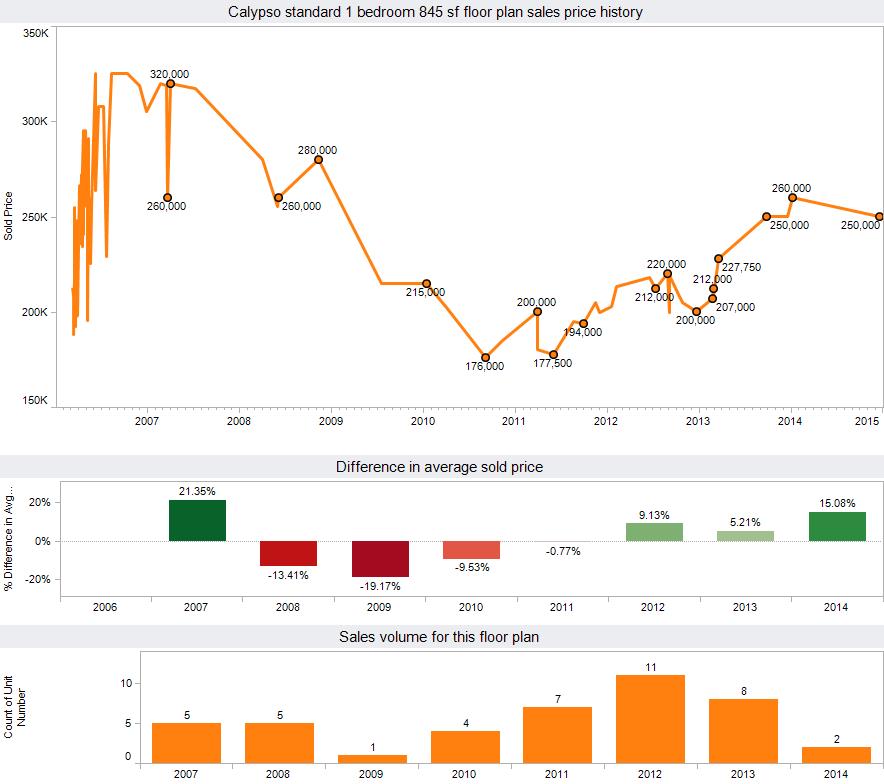 Condominium sellers
Currently, many of the newer floor plans are approaching prices near the original preconstruction prices, minus 20%. When I say approaching, we are still roughly 5-10% shy of this price point for many floor plans. This number is an important psychologically because many owners took out 80% loans on their condos. It is very common for a seller to tell me they just want to pay off their loan and not have to bring any cash to the closing table. We're seeing a large supply of inventory come on the market as we reach that price point. As prices increased in 2014, the absorption rate became much lower. Pricing this year is likely to continue pushing higher. So there are two questions for many sellers this year:
How long it will take for buyers to pay these higher asking prices?
Are sellers willing to wait that long with the lower absorption rate?
Buyers are willing to pay more for upraded and nicely furnished condos
Many properties will have asking prices that are $10,000 to $30,000 higher than several other individual floor plans that are also being listed. These higher listing prices often occur because of upgrades that have been done, such as adding new tile to the kitchens and bathrooms. When buyers compare these units to units that have something like poor furniture, they see the value the upgrades give these properties.
You may also want to check out our 2014 year in review of the real estate market in Panama City Beach.
Panama City Beach real estate, Panama City Beach condos for sale, Real Estate Market Updates, Calypso Condominium, Year in Review
Created on .
Last updated on .
Hits: 7091