Looking back at 2012,and on to 2013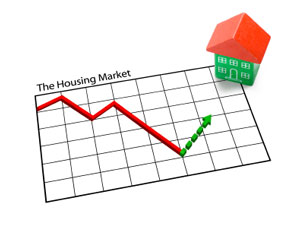 The majority of condominium prices reached a low point between 2011 and the start of 2012. However, a large number of condos actually increased in value by 20 to 30 percent during the past two years. Some analysts believe the increase was greater, but for our purposes, we are only considering true price increases. If you purchased a condo that was unfurnished during that time for $220,000, and another buyer purchased a similar condo in good condition that was fully furnished for $250,000, both buyers ended up with about the same deal. In each case, the condos sold for 15 to 30 percent less than their current sales price.
The law of supply and demand is responsible for the sudden increase in the current price of condos. There simply aren't enough condos for all the interested buyers, so the prices are rising to meet the demand. A reduction in foreclosures and short sales also influenced the price increase. It is expected that increased prices and decreased distressed sales will continue during 2013. However, sellers will not experience windfall profits. Those condos that saw a raise in their sales price will most likely not keep increasing at the same rate. It's more probable that those condos will remain near the same price.
Floor plans that didn't enjoy a price increase will probably go up in value during 2013. Remember that foreclosure and short sale cycles change, and a price increase is likely as each floor plan makes its way through the available inventory.
For example, demand for the Calypso two-bedroom plus bunk floor plan has risen faster than the price of other similar floorplans, which resulted in an increase in price. The graph shows this floor plan bottomed out at the start of 2011 due to a few foreclosed unfurnished units requiring renovations that were offered for $220,000. When you look a little deeper, the sales tell a different story. When you consider the cost of furnishing and doing a small number of renovations to a foreclosure, your cost basis is usually about $30,000 to $40,000. With that in mind, the foreclosure prices come in line with the other short sales between 2010 and the end of 2012. As distressed inventory left the market, prices rose to the $300,000 range. One condo even sold for $327,000.
Click on image below to see the full size graph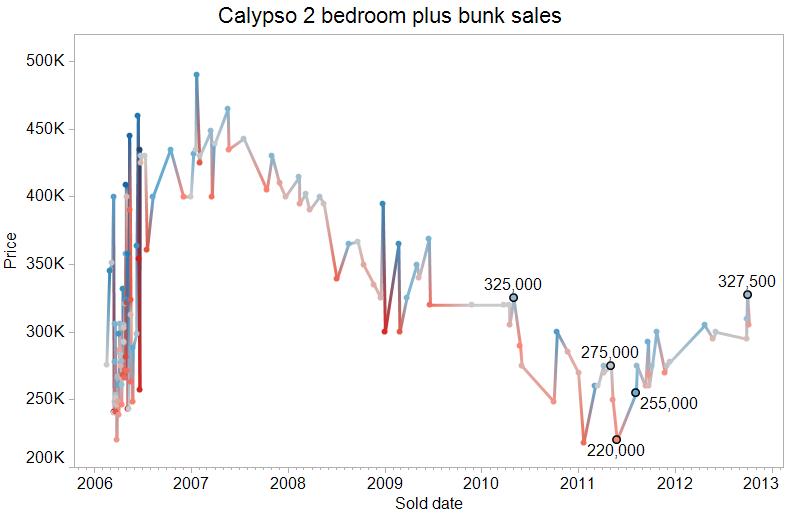 The two-bedroom plus bunk floor plan at Calypso and Sunrise Beach are represented in the next graph. One of these plans has experienced a price jump while the other model has not had experienced a bump at this point. The graph shows that the Calypso has historically enjoyed a 10 to 20 percent premium when compared to Sunrise Beach. Even with the price differentiation, these floor plans have historically followed each other in lock step. The Calypso experienced a price jump due to the decline in distressed properties. Sunrise Beach has not seen a price jump to the same degree. That is likely to end this year after Sunrise Beach works its way through any remaining distressed properties.
Click on image below to see the full size graph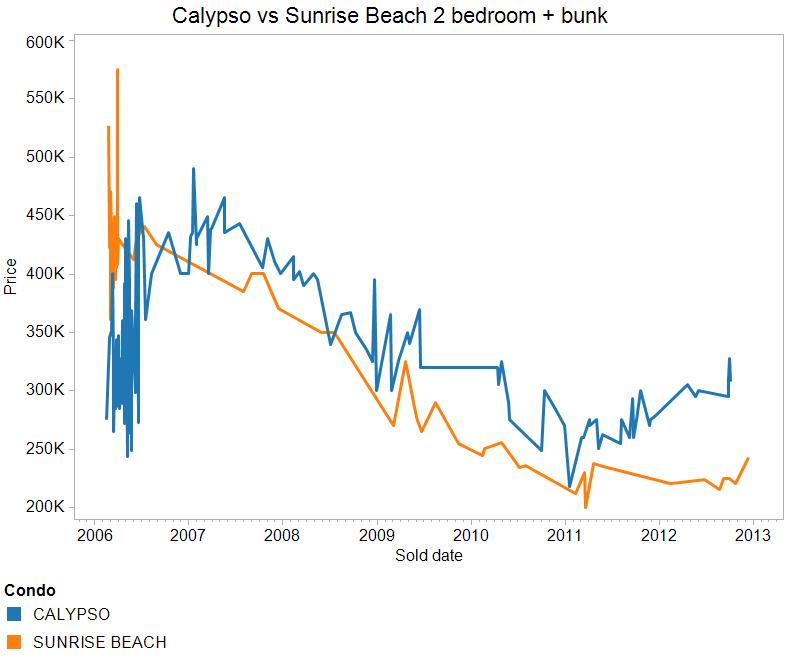 For the immediate future, the demand for condos will exceed the number of condos that will be for sale. This will cause prices to increase for most floor plans across the beach. It looks like 2013 is likely to be the year when a reduction in distressed sales will mark a return to a more typical market where short sales and foreclosures are not the norm.
Created on .
Last updated on .
Hits: 8428
People in this conversation